Home Page

Manila
Baguio City
Banaue
Batanes Islands
Batangas
Bohol
Boracay
Cebu
Corregidor
Davao
Iloilo
Palawan
Pangasinan
Puerto Galera
Vigan, Ilocos Sur

Underwater Pictures
Philippine Festivals
Philippine Airlines List
Travel Tips
Visa Exempt Pinoys
Philippine Map
Manila Hotels
BATANGAS
Batangas is the exact place that will give you a sudden urge to drop whatever it is you are doing and just take off to Batangas. When you get there, you will know that everything is worth leaving behind for a Batangas experience!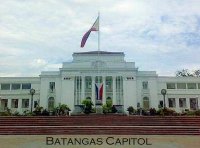 Nestled just two hours away by car from the hustle and bustle of Metro Manila, Batangas offers a haven for every discerning visitor. The short trip will take you to captivating sites like the world's lowest volcano and diverse dive sites. If it's heritage you are looking for, Batangas also has historical sites well preserved for everyone to enjoy.

To satisfy your craving for underwater adventure, the fascinating dive sites in Anilao will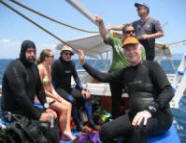 definitely fill your excitement. This marine protected sanctuary situated in Mabini, Batangas is currently rated number one in the Philippine macro photography and number three worldwide from the evaluation of international divers visiting the site. With over 40 dive sites ready for you to explore, you are sure to get your fix of underwater wonder. Night dives are sure to capture your most vivid imaginations as you swim with creatures like mandarin fishes, sea hares, catfish eels, sea goblins and blue-ringed octopuses and snake eels. This is definitely better than flipping through cable television. Also, marvel at the best-known dive spot in Anilao called the Cathedral where you'll find two large mounds with a cross in between at 50 feet.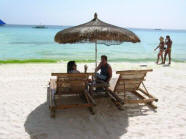 Blessed by open beaches and sheltered coves, subterranean caves and deep harbors, Batangas is a must-stop for not just beach lovers but for anyone who needs to wash away their stress while sunbathing on beautiful white sand beaches. Visit serene white beaches in Laiya Aplaya and find gorgeous accommodations that will meet your exacting needs.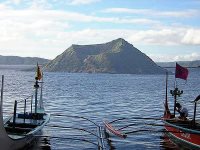 Batangas also boasts on having the centerpiece attraction in Southern Luzon, the Taal Lake. Tagged as the smallest active volcano in the world, it is a volcano within an islet, within a lake, within a crater, within a volcano. This picturesque site holds a sulfuric lake inside its main crater right in the center of the island. Families and friends can enjoy abundant activities on the island like trekking, horseback riding on the way to the inner lake, camping and kayaking at the Crater Lake Resort. All these are just a boat ride away from the shores of Talisay, Batangas.

The town of Taal also prides itself for its well-preserved colonial towns dating back to the Spanish era. Historians will definitely admire the town's old layout combining the municipal hall, school, church, and houses. Do not miss to visit historical sites like the Marcela Mariño Agoncilio Museum, Church of Our Lady of Caysasay, Leon Apacible Historical Landmark and Escuela Pia.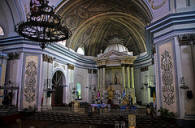 Feast on the architectural beauty of the Basilica of San Martin de Tours. Built by Father Diego Espina in 1575, the church was destroyed several times by Taal Volcano's eruption and an earthquake but still holds the fascination of many admirers because of its baroque façade consisting of a single mass of stone shaped into artistic designs.

If you are a patriot, you will surely love to visit the Apolinario Mabini Shrine. The shrine located in Barrio Talaga, Tanauan, Batangas is a memorial to the Philippine hero also known as the Sublime Paralytic. See the remains and personal belongings of the late revolutionary hero who also masterminded the Katipunan in 1896.

Now all your traveling will not be complete without trying out Batangas' famous Lechon. The people here so love this food they hold a celebration every June 24 in the town of Balayan where they dress up these whole roasted pigs and parade them at the plaza.

If you're not a pork enthusiast, Batangas offers a special Kilawin that will certainly reward your hunger. It is made of fresh fish just hooked straight from the sea soaked in vinegar and lemon juice sprinkled with fresh chopped onions, garlic and hot peppers. If you're not sure where to find this dish, just ask the locals and with a familiar smile Filipinos are known for, they will surely fix one for you.
How to go to Batangas:
Several bus lines ply the Manila-Batangas route 24 hours a day. Most have terminals are in Quezon City and in Pasay. Here are the most popular bus lines that ply this route and their phone numbers:
● BLTB - Pasay Terminal, Tel. # 833-5508, 913-1525, 833-5501
● JAM Transit - Cubao, Q.C. Tel. # 541-4409, 831-4390, 924-7712
● TRITRAN -Pasay Termainal, Tel # 925-1759, 925-1758
Batangas Hotels:

Acuatico Beach Resort & Hotel
Al Frontera De Taal
Bahay Marikit Resort & Hotel
Balai Anilao Resort
Batangas Country Club Resort Hotel
Balai Laiya Beach Resort
Bezo (Solana) Beach Resort
Brine Valley Resort
Canyon Woods Residential Resort Club
Carfel Vistamar Beach Resort & Hotel
Coral Beach Club
Days Hotel Batangas
Dive and Trek Resort
Eagle Point Resort
El Sombrero Beach Resort
Evercrest Golf Club Resort
Kabayan Beach Resort
Hotel La Corona de Lipa
Hotel Las Corona
Hotel Pontefino
Jonhdel Resort
Lago De Oro Beach Club
Laiya Coco Grove
Laluz Resort
Las Haciendas
Lima City Hotel
Matabungkay Beach Resort
Maryland Beach Resort
Maya Maya Reef Club
Microtel Inns and Suites
Munting Buhangin Treehouse
Outrigger Resort
Pacifico Azul Beach Resort
Pontefino Hotel Batangas
Punta Baluarte
Punta Fuego
Sea Gaian Resort
The Alpha Hotel
The Farm and San Benito Spa
Twins Beach Club Resort
Verde Island Resort
Villa Cornelia Nature Park & Resort
Virgin Beach Resort
White Cove Resort
Philippine Travel Destination Home Page | Manila | Baguio City | Banaue Rice Terraces | Bohol | Batanes | Batangas | Boracay Beach | Cebu | Corregidor Island | Davao | Iloilo | Palawan | Pangasinan | Puerto Galera | Vigan | Philippine Festivals | Philippines Airline Guide | Travel Tips | Philippine Map | Site Map