Home Page

Manila
Baguio City
Banaue
Batanes Islands
Batangas
Bohol
Boracay
Cebu
Corregidor
Davao
Iloilo
Palawan
Pangasinan
Puerto Galera
Vigan, Ilocos Sur

Underwater Pictures
Philippine Festivals
Philippine Airlines List
Travel Tips
Philippine Map
Visa Exempt Filipinos
Manila Hotels
PHILIPPINES TRAVEL GUIDE
Philippine travel destinations guide gives you an overview of popular tourist spots in the Philippines. On each of the featured tourist destination on this travel guide, you will find places of interest on each destination, things to do and how to get there. We have included a page of travel tips, a list of fascinating Philippine festivals that runs year round, a collection of underwater scuba diving pictures, and a map of the Philippines for your reference.
Communications and getting around the country is easy as most Filipinos understand and speak English. Mobile phones are used throughout the archipelago. Foreigners can buy "pre-paid" SIM cards for their cell phones for temporary use in the country to avoid costly roaming charges. Also, foreign currency can easily be converted into Philippine Peso and all major credit cards are accepted at big department stores, restaurants, bars and major establishments.
Filipinos are a fun-loving and friendly people. Throughout the islands, there are festivals celebrated everyday and foreign guests are always welcome in their homes. Every travel destination on this guide is worth a visit. We have featured the most frequently visited tourist spots in the Philippines: the capital city of Manila; Boracay Beach; Baguio - the summer capital of the Philippines; Bohol Island; Corregidor Island; Cebu City; Davao City; the Islands of Palawan; the Hundred Islands of Pangasinan; Puerto Galera Beach; the old Spanish colonial city and UNESCO World Heritage Site of Vigan in Ilocos Sur; and the breathtaking Banaue Rice Terraces.
---
PHILIPPINES TRAVEL VISA

Foreign nationals are allowed to enter and travel within the Philippines for 21 days without a visa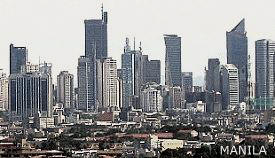 provided that they have valid tickets for their return journey to their port of origin or to their next travel destination port and that their passports are valid for a period of at least six (6) months. Extension of stay is available at the Philippine Bureau of Immigration after paying a minimal fee. For stays longer than 21 days, a Temporary Visitors Visa is required.
Exceptions: Passport holders of Hong Kong Special Administrative Region (SAR), British National Overseas (BNO) and Macao Special Administrative Region (SAR) passport holders are only allowed up to 7 days stay without a visa. Foreign nationals from Brazil and Israel are allowed up to 59 days without a visa.
---
ABOUT THE PHILIPPINES
The Philippine archipelago consist of 7,107 islands with a total land area of 300,000 square kilometers or 115,830.60 square miles (about the same size as Italy). The 11 largest islands contain 94% of the total land area. The largest of these islands is Luzon at about 105,000 km˛. It is where the capital city of Manila is located. The next largest island is Mindanao at about 94,600 km˛. The Philippines is approximately 800 km from the Asian mainland and is located between Taiwan and Borneo.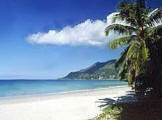 The Philippine islands are divided into three groups: Luzon, Visayas, and Mindanao. The Luzon islands include Luzon itself, Mindoro, Palawan, Masbate, and other smaller islands. The Visayas is a group of several small islands, the largest of which are: Panay, Bohol, Negros, Cebu, Leyte, and Samar. Mindanao island includes Mindanao island itself and the Sulu Archipelago, composed of Tawi-Tawi, Basilan and Sulu. Each island group has a Philippine destination worth visiting. And if research enough, you'll find a fiesta celebration everyday of the year at different towns throughout the archipelago.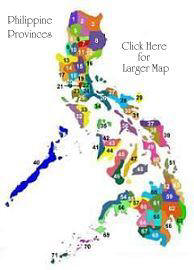 Climate in the Philippines is hot, humid, and tropical. The average yearly temperature is around 26.5° Celsius. Filipinos generally recognize three seasons:

Summer: March to May
Rainy Season: June to November
Cold Season: December to February (moderate to folks from temperate countries)
Philippine Population: 100M (2015 Estimate)
Per Capita Income: $7,400
Literacy: 93%
HIV-AIDS Prevalence: less than 0.1%
Electricity: 220V (110V is available, mostly in major hotels)

The islands of the Philippine archipelago are volcanic in origin and are mountainous. The islands are part of the Pacific Ring of Fire. Mt. Apo (2,954 meters above sea level) in Mindanao is the highest peak, while the second highest peak is Mt. Pulog in Luzon. It rises 2,842 meters above sea level. The Philippines have numerous rivers, volcanoes, streams, narrow coastal plains and beautiful sandy beaches which foreign and local tourist enjoy. The country has a total of 36,289 kilometers of coastline.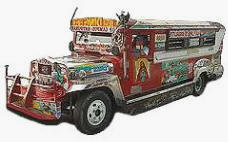 Travel within the Philippines not difficult, if you don't mind riding the sometimes rickety public transportation. There are all kinds of transportation available to tourist and locals: Airplanes and ferries for inter-island transfers, buses & taxis ply in major cities all over the Philippines and the ubiquitous jeepney can be found everywhere. In Metro Manila, modern light rail transit is available on main roads. To visit the provinces, there are several bus companies in Metro Manila that plies to all regions of the country (to the North e.g Ilocos region to the South e.g. Davao City). In tertiary roads & small rural towns the jeep & tricycle is the transport of choice.
The official languages in the Philippines are Filipino and English. Filipino which is based on the Tagalog dialect (the dialect of national capital region), is the national language. English is also widely used and is the medium of instruction in higher education in the Philippines. There are also 76 major local languages and more than 500 different minor dialects throughout the archipelago. Unlike most Asian countries, foreigners will not have a difficult time communicating during their travel within the country as basic English will be understood even in rural areas.
Majority of Filipinos are Roman Catholic, comprising about 83% of the population (the reason why there are so many festivals in the country -commemorating the annual anniversary of the local patron saint). The rest are made up of Protestants, Iglesia ni Cristo, Moslems and Buddhist and other smaller denominations.

This guide previews the more popular tourist spots in the Philippines beginning with the City of Manila, then Baguio City, Banaue Rice Terraces, Batanes Group of Islands, Batangas, Boracay Island, Cebu City, Corregidor, Davao City, Iloilo, Palawan Island, Pangasinan's Hundred Islands, Puerto Galera Beach, Bohol Islands and the World Heritage City of Vigan in Ilocos Sur. Mabuhay!
---
City of Manila | Baguio City | Banaue Rice Terraces | Bohol Island | Batanes Islands | Batangas |Boracay Beach | Cebu | Corregidor Island | Davao City | Iloilo | Palawan Islands | Pangasinan - The Hundred Islands | Puerto Galera Beach | Vigan, Ilocos Sur | Free Underwater Scuba Diving Pictures | Philippine Festivals - Fiestas | Travel Health Insurance | Philippine Airlines | Philippine Map | Discover the Philippines | Travel Tips | Privacy Policy | Links Page | Site Map